Welcome to the love month, the time of the year when lovebirds exchange cards, chocolates, teddy bears, and roses. All the hallmarks that we have come to expect out of Valentine's Day will be out in full force. GreenHouse Japan, however, has a twist to counter that expectation. Even geeky love has its place, so what better way to show it than the GreenHouse Heart-Shaped USB hub.
The GreenHouse Heart-Shaped USB hub would make a perfect Valentine's Day gift for your techie loved one or a girl gadget lover. Even more if the one you're wrapping this gadget for constantly complains about or has mentioned the lack of USB ports on their laptop or desktop. To carryover the special message of love, the GreenHouse USB hub comes in three colors perfectly suited for the day of hearts: pink, red, and gold. The choice of color is up to the user, but the features are the same across the board.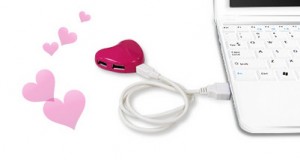 GreenHouse has equipped the heart-shaped hub with four USB ports that conform to USB 2.0 specifications. That means backward compatibility with USB 1.1 and a maximum data transfer rate of 480 Mbps. Designed to require only a small amount of energy, the unit is bus-powered, striking out the need for an AC adapter that detracts from the gadget's portability right out of the box. If software compatibility is your concern, then there's no need to worry. The heart-shaped hub works on both Windows and Mac operating systems.
While GreenHouse Japan's heart-shaped hub was initially released to sell to the Japanese market, it is currently available in the U.S. AudioCubes is the authorized distributor of the product (along with other GreenHouse Japan releases) for the American market.
Priced at $26 per unit, the GreenHouse Heart-Shaped USB is a decorative way to expand the number of USB ports you have (especially if you have a laptop – which typically has only two or three ports) or to take out the hassle of having to plug peripherals into hard-to-reach USB ports. Why not celebrate Valentine's by giving the gift of both love and practicality?