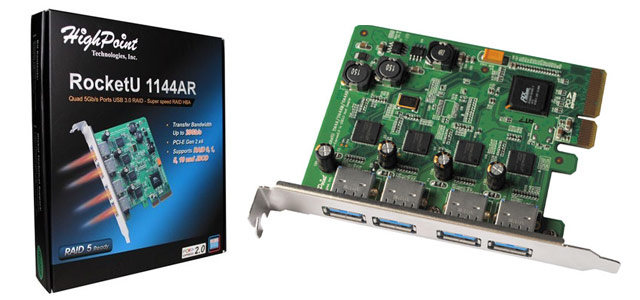 Having USB 3.0 devices doesn't always guarantee USB 3.0 speeds. For that, you have to make sure that your bus adapters are up for the performance. HighPoint is trying to hedge the market for that with its RocketU 1144CM, the fastest USB 3.0 RAID Host Bus Adapter for Mac OS X 10.8x Mountain Lion out in the market today.
The HighPoint RocketU 1144CM is a third generation PCIe 2.0 host bus adapter, or HBA. That means that the adapter is capable of transfer rates going up to 5 GB/s. What's more impressive about that is it can deliver those speeds on a port by port basis. The technology behind this specification is the presence of SuperSpeed USB 3.0 controllers for each port, delivering a highly responsive SATA performance over USB connectivity. HighPoint's bus adapter can accommodate up to four external SSDs, hard drives, or other enclosures through its Type-A connectors, which can be used at the same time while still maintaining high speeds. With a theoretical maximum bandwidth speed of 20 GB/s, there's really not much to complain about when it comes to heavy duty applications.
The specs tacked onto the HighPoint RocketU 1144CM bus adapter make it highly suited for multi-drive setups of high performance SSDs and hard drives. The adapter is designed with Mac Pro workstations and applications in mind. At its most basic, the adapter can run on a Mac OS X 10.6x or later. Its USB 3.0 specifications also mean that it automatically supports backward compatibility with USB 2.0 and 1.1 devices.
One of the leading companies in the innovation of USB storage solutions, HighPoint is putting the pressure on other companies to one up them. As an additional push in this direction, the HighPoint 1144CM can be coupled with the company's own USB 3.0 storage dock, the RocketStor 5122B, to get even more speed and storage capacity out of the setup. The RocketU 1144CM is available through worldwide distributors and resellers of HighPoint. If you're looking for a bus adapter that will realize the potential speeds of your USB devices, shelling out $149.99 can be considered a long-term investment.