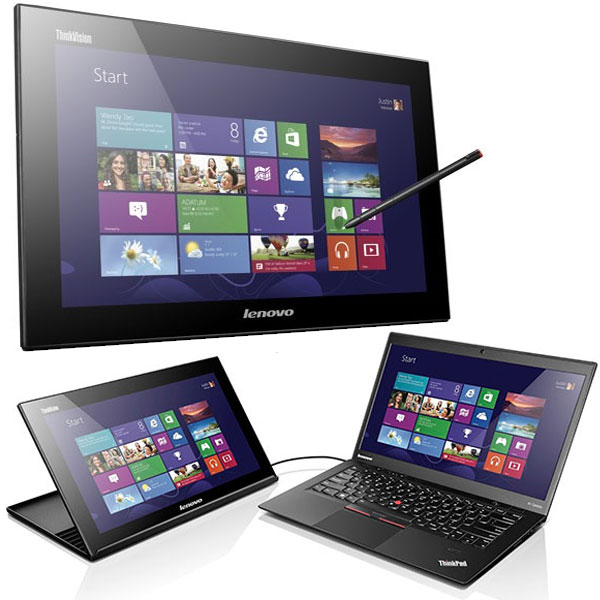 The development of Windows 8 has influenced the design and function of a few products in the market. You may even say that its touch-oriented features are slowly eroding the expectations of what a desktop is. One of the products that have aligned with the demands of Windows 8 is the Lenovo ThinkVision LT1423P, the first of USB 3.0 mobile touch monitors that have yet to make it into the market.
Having a portable monitor suits the layout of Windows 8 perfectly. The features specifically designed for touch performance actually suggest the use of some gadget that is at least handheld, very similar to the way smartphones and tablets are used today. The Lenovo ThinkVision LT1423P is just that gadget.
An upgrade of the older yet similar ThinkVision LT1421, the ThinkVision LT1423P improves on the previous model by featuring a touch screen protected by Gorilla glass and a better screen resolution (1600 x 900 compared to the LT1421's 1366 x 768) that allows for a wider range of viewing angles and more true to life colors.
Catering to the touch aspect is the mobile monitor's ability to recognize a maximum of ten kinds of touch points. For finer and more precise work, the LT1423P supports pen input and, for that, is bundled with a wacom stylus capable of registering some 256 levels of pressure sensitivity. The screen is also reconfigurable, meaning you can position it prop it up on a stand, hold it like you would an iPad, or find a happy middle you're comfortable with. The Lenovo ThinkVision LT1423P clocks in at just less than 1.6 pounds, encouraging users to think more in terms of portability.
The Lenovo ThinkVision LT1423P USB 3.0 touch monitor is set for release sometime during this year's second quarter. The mobile monitor will have a wired and a wireless version. The wired version is powered through a USB connection with the main computer, and the wireless version is powered by a 10-hour battery. The prices are as follows: $349 for the wired version and $449 for the wireless version. With the only difference being a Wi-Fi option, the wired LT1423P might be the better introduction to Lenovo's line of touch monitors.