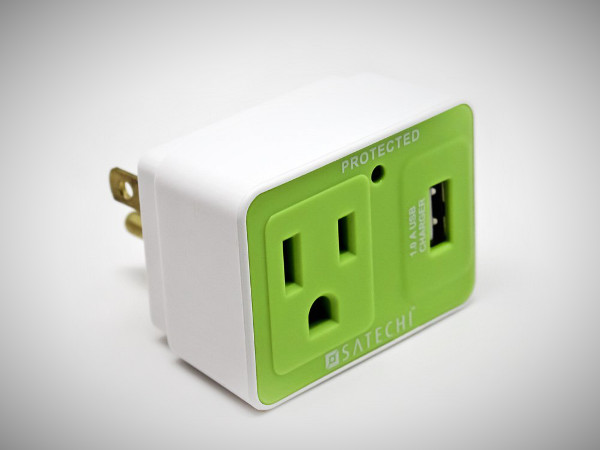 Shorted out computers do not really form part of a fun experience – most especially when there is work to be done. All it means is stress for two things: the loss of data crucial to you and the loss of a working computer. It's a good thing that surge protectors were invented. They keep these things from happening when there's a power failure. But surge protectors have always been big and bulky. With Satechi's Compact USB Surge Protector, you can now take with you a crucial safety measure when you are on-the-go.
The Satechi Compact USB Surge Protector is a single-outlet device with a USB charging port for MP3 players and smartphones. It is extremely convenient for the road, since it is compact, and is built well enough to withstand normal wear and tear. Despite its durability, Satechi's mini-surge protector is still meant to be disposable. The device features an LED indicator that shows its remaining life. Green signals continual use, and no light at all means that the surge protector is all spent and it's time to buy a new one.
With an electrical rating of 120V/15A and USB power output of 5V/1A, the Satechi surge protector can charge most USB devices with its port. As is normal, it will encounter some charging problems with USB devices that demand more power than the standard 5V/1A specification. But other than that, the Satechi is a decent product. It has one 3-pronged grounded AC outlet that plays an important role in preventing current surges that occur when you plug a device into a normal wall outlet.
The surge protector makes a good travel adapter. It's small enough to fit into a purse or pocket. The price isn't so bad either. If you order this Satechi device through Amazon, you can get it for the price of $9.99. Priced that low, it's fairly easy to replace once it's run out of power. To offer some insurance, Satechi has backed the Compact USB Surge Protector with a one-year warranty. With the Satechi Compact USB Surge Protector, the threat and frustration associated with unintentionally shorted out computers is far from the forefront.