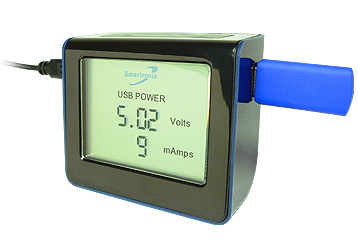 If you've ever been the computer user who likes to know the minute functions of your computer, how to determine the exact consumption of your gadgets, or how to go about certain DIY projects, then Smartronix's USB Power Meter might be a useful tool for you. The power meter detects the amount of power (in milliamperes and volts) that each one of your gadgets really consumes.
The Smartronix USB Power Meter not only provides this handy gadget power consumption, but also gives you the amount of current a USB port is providing. It's a useful option to have when power problems come up, and you need to pinpoint exactly where they're coming from. The USB Power Meter shows you this data through a built-in LCD house in its black casing. The LCD display shows the exact amount of power a USB port is providing and the actual flow of current to a plugged-in gadget. The power meter does have some operational limitations that need to be taken into account. It can only detect the voltage of a USB port within the range of -19.99 V and +19.99 V and a current flow of up to 1,999 mA (from port to gadget).
Limits aside, the Smartronix USB Power Meter still delivers significant utility, since most devices suck more juice out of a USB port than the standard 5V interface specifications and some USB ports are flagging on power provision. Along with the standard voltage and readings, the power meter has a "peak" mode setting that lets you track only the highest data output points of a particular power test. The unit is compatible with USB 2.0 and 1.1, making it relevant to most desktops and laptops out there. The device isn't small enough (in terms of power consumption) to run on bus power, but that's remedied by the use of two AA batteries. To offer some freedom of movement, the USB Power Meter uses a standard type A to type B USB connection.
So, if you ever find it necessary to know the exact consumption of a gadget or just how much juice your USB port is providing, the Smartronix USB Power Meter is right up your alley. It's available for retail from CyberGuys for $49.95.