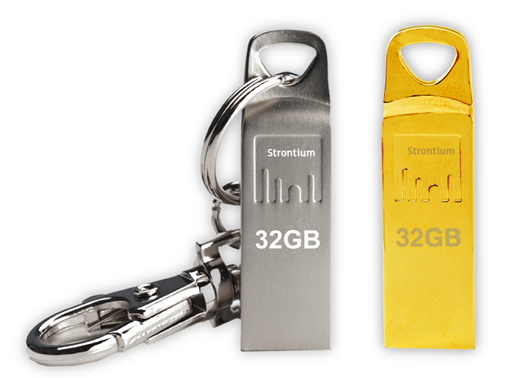 Mixing high quality with high class can get tricky when it comes to utility gadgets like USB flash drives. Most of the focus tends to go to performance, so design takes a backseat and becomes an afterthought. With its recent line of USB flash drives, however, Strontium Technology is bucking the majority trend. Its Ammo line of USB 2.0 flash drives are aiming to deliver sleek design with quality flash technology performance.
The Strontium Ammo USB 2.0 flash drive combines class with performance through its luxurious design. The flash drive is unique in that it comes in two luxury finishes: silver and gold. The silver version is polished to a high luster, while the gold version is plated with actual 24-karat gold for some serious luxury feel. Besides possessing some high class finishing, Strontium's Ammo line of flash drives are also made from solid metal. And that is a sure proof of hardware durability.
Ammo flash drives can last over 50,000 insertions into USB ports. Holding up the performance end of things is the manufacturing of top NAND flash memory components in the Ammo USB 2.0 flash drive. Their top quality components ensure storage reliability and the occurrence of high data transfer speeds. The Singapore-based Strontium has specified the Ammo flash drives as having minimum read and write speeds of 25 MB/s and 5 MB/s, respectively.
Though the Ammo flash drives are USB 2.0, they have backward compatibility with USB 1.1 ports and are supported by USB 3.0 ports (don't expect to achieve SuperSpeed transfer rates with it though). There is plug and play support, taking out the hassle of driver installations. And it is also bus-powered, so no AC adapter to taint the convenience.
The Strontium Ammo USB 2.0 flash drive is compatible with both Windows and Mac operating systems. It's back by the company's five-year limited warranty. The silver version offers storage capacities ranging from 4 GB to 64 GB, while the gold version offers 16 GB to 64 GB. Prices range from $4.50 to $38 for the silver finish and from $14 to $46 for the gold finish. Do you think it's worth the price? Tell us what you think when you get your hands on the Strontium Ammo USB flash drive.