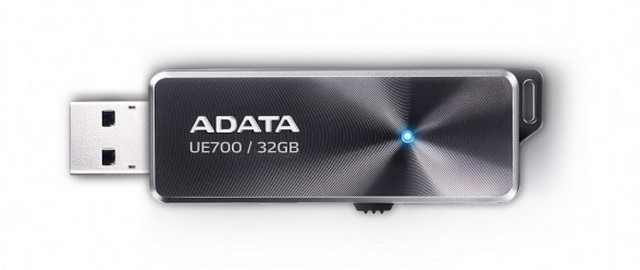 Sleek design and fast performance all combine to form ADATA's DashDrive Elite 3.0. The company has long been known when it comes to innovative flash technology; therefore, ADATA's new release keeps in line with the company's goals of being one of the leading companies in the area. As an answer to current market trends, the new DashDrive 3.0 (model UE700) caters to the increasing number of consumers who want to see artful design combined with powerful speed performance in their USB flash drives.
The ADATA DashDrive Elite 3.0 possesses transfer speeds that seriously threaten the releases of leading companies in competition with the brand. The USB 3.0 bus interface of the flash drive provides it with the capacity to read content at speeds up to 200 MB/s and write content onto the drive at speeds reaching up to 100 MB/s. From a performance standpoint, the UE700 burns most of its competition flash drives in the current market. Plug and play ease and compatibility with the two main computer platforms add to its ability to penetrate niches within the industry.
The DashDrive Elite 3.0 goes on to garner more points in talks about its design. The flash drive is finished with a tasteful brushed aluminum casing imprinted with concentric circles that emanate outwards from the blue LED indicator locator on one end of the drive. The USB drive is a capless one; its USB connector retracts into the casing making it easy to protect the connector from accidents when not in use. A loop at the end of the flash drive opposite from the connector side gives you the option to attach the flash drive to a lanyard or a keyring.

The marketing for the DashDrive Elite UE700 is geared towards business professionals who want the rich feel of carbide and brushed steel. It is made to compliment the dark metal skins on cell phones, executive pens and the newest tablets. The company explains:
The DashDrive Elite UE700 combines professional taste with top-notch USB 3.0 performance. With USB flash drives being called on to store and deliver personal media content of higher quality and file size than ever before, the UE700 satisfies the most rigorous requirements. Its slim profile emphasizes the state-of-the-art technology it embodies.
The ADATA DashDrive Elite 3.0, or UE700, comes in 16 GB, 32 GB, and 64 GB versions, making it ideal for consumers working with large files demanding high transfer rates. Each unit comes with free add-on software from ADATA, including a trial version of Norton Internet Security 2013. Should you ever encounter problems with the flash drive, then you shouldn't have too much of a problem going back to ADATA. The company bundles the drive with its lifetime warranty.