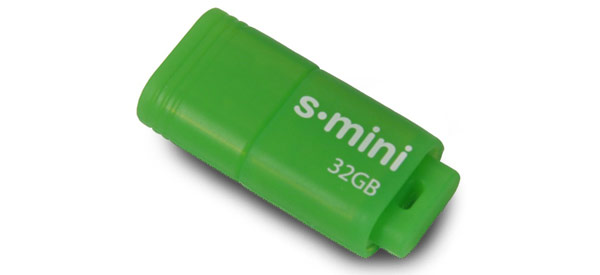 The world of technology has an obsession with tiny things. Whether it's unhealthy or not, we'll leave for others to decide. But still in relation to tiny things, Patriot, a world leader in flash technology storage products, announced just a few days ago the release of its interpretation of the next step in USB 3.0 flash drives, the Supersonic Mini. An ultra-portable USB flash drive, the Patriot Supersonic Mini USB 3.0 boasts high file transfer rates in combination with a very compact and small form factor.
It is common knowledge in the USB world that you often exchange a highly portable form factor for high speed performance or vice versa. With the Supersonic Mini, Patriot is trying to go against that notion and combine the best of both worlds. At 1.5 grams (0.05 ounces), the Supersonic Mini weighs about the same as two standard size paperclips, making it extremely lightweight and portable. Its casing is durably rubberized, making it ready for not only the daily wear and tear of flash drive use, but the occasional abuses as well. A transfer rate that can reach up to 80 MB/s proves that speed performance does go hand in hand with extreme portability. Couple this with storage capacities set at 16 GB and 32 GB, and you don't have to worry about coming up short of space.
The Supersonic Mini's plug and play functionality also removes the inconvenience of looking for and installing drives. This comes in handy when you work on the go and switch between several computers regularly. Further software ease is evident in the flash drive's platform support. The Patriot drive is compatible with Windows systems as old as Windows ME and as recent as Windows 7. It's also compatible with Mac OS 9, X and later. Rounding out platform compatibility is support for Linux 2.4 and later systems.
The Patriot Supersonic Mini will be shipping out to the market in first half of April. For now, the USB flash drive will retail for $19.99 for the 16 GB version and $29.99 for the 32 GB version.