When flash drives are first released into the market, the most common things people clamor about are either speed performance or design. If we were to go by these distinctions, then Team Group's new C12F and C12G models would hardly create a ripple in the market. They're just all-around normal flash drives that don't boast ultra-slim form factors or USB 3.0 SuperSpeed specifications. So what makes them worth mentioning? Affordability and suitability to the average user! After all, most people still use USB 2.0 and can go on with life without the latest speed developments in the industry.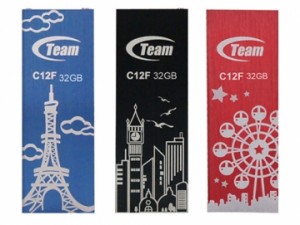 Team Group's C12F line of USB flash drives are distinguished by metallic finishes and patterned designs. The line offers three USB designs, differentiated by color and the patterns on the USB: romantic blue tower, flaming red Ferris wheel, and calm-colored urban building. The architectural designs of each one is meant to impart a sense of modernity. A thoughtful feature you wouldn't expect from the C12F is its bookmark-like function. Shaped like a miniature rectangular bookmark, you can clip it onto a pile of papers or between the pages of a book.
The body of Team C12F is surprisingly designed to be a bookmark in shape. It not only allows consumers for transmission and storage of personal data, but also increases the overall practicality. In addition, the lightweight and portable designs make life more convenient, and give consumers freer, more convenient and much better experience.
The C12G line offers itself up for ultimate portability. Less than three-quarters of an inch on all sides, you can attach it to a key ring or use it as a phone accessory to keep with you at all times.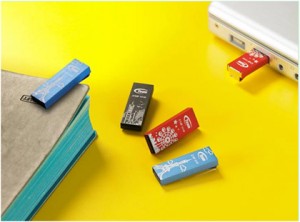 Both the C12F and C12G USB flash drive lines have storage capacities in 4 GB, 8 GB, 16 GB, and 32 GB versions. Reading speeds max out at 15 MB/s for the 4 GB versions and 20 MB/s for the others. The same treatment goes for max writing speeds with 5 MB/s for 4 GB and 10 MB/s for the others. The USB 2.0 interface still provides these drives with a wide range of compatibility with other devices. Although it may be easy to argue the flash drives' general non-remarkableness, Team Group makes up for that in service. Both USB drive lines come with the company's lifetime warranty. We only have to wait for news from retailers to get an idea about the prices for each line.