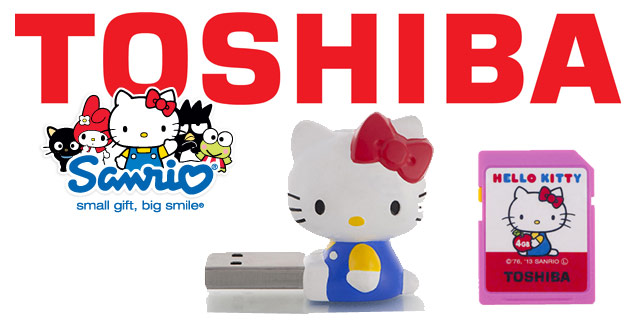 You don't have to be a fan to notice just how popular Hello Kitty is all over the world. Sanrio has had so much success with Hello Kitty that the variety of Hello Kitty products is really quite shocking: Hello Kitty stuffed toys, pencils, bags, erasers, watches, and even TVs! Toshiba announced that it will be collaborating with Sanrio to release special edition Hello Kitty USB flash drives, another sure-to-be hit in their long roster of cute Kitty products.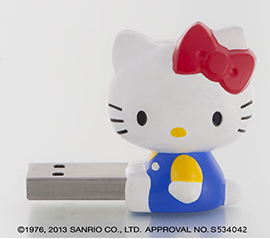 Toshiba's collaboration with Sanrio will result in the release of a USB flash drive model, known formally as the UKT-A008G. The flash drive will take the form of Sanrio's famed mascot, Hello Kitty (though in a miniature version), with a USB connector designed visible one end. Though obviously marketed as a novelty product, the Hello Kitty USB flash drive still offers decent storage at an 8 GB memory capacity. And since Toshiba is a world renowned manufacturer of portable flash technology storage media, it can be expected that they won't be releasing a mediocre product for the sake of attracting a new market in the form of Hello Kitty fans. Not a lot of details have been released to the public concerning the UKT-A008G's USB interface. It will be seen whether they stay aligned with current technological advances; it would be nice to see USB 3.0 compatibility, but USB 2.0 support is still acceptable, especially considering that USB 2.0 is still the default drive in many households.
What can't be confirmed in terms of bus interface support is fortunately made clear when it comes to operating systems. Toshiba's Hello Kitty flash drive will be compatible with Windows XP, Vista, Windows 7, and Windows 8 on the Microsoft side. On the Apple side of things, the flash drive will show compatibility with Mac OS X 10.0.2 and later.
The Hello Kitty SDHC cards are manufactured under the code SD-H04GKT and SD-H08GKT. The storage sizes available are planned to be 4GB and 8GB respectively. They are also cute, made in bubble gum pink and featuring the colorful logo and image sitting Hello Kitty.
Hello Kitty fans number in the millions and come in every age and nationality – it is recognized as one of the most trusted and recognized brands in the world, along with Coca-Cola and Mickey Mouse. Providing a truly useful tech product is a smart move for Sanrio, flash drives are used on a daily basis by elementary, middle school and high school students who are often required to have them as part of their supplies list.
As of now, the Toshiba Hello Kitty USB flash drive (UKT-A008G) is schedule for release to the Japanese market on March 9 of this year. For how much, no one knows. Toshiba hasn't released any official statements concerning the price. The company has also remained quiet about whether the drive will undergo worldwide release.