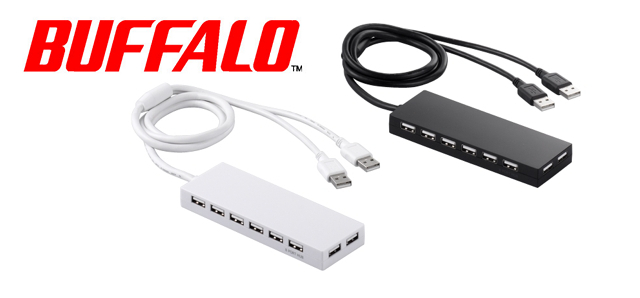 Your laptops don't always have enough USB ports for your peripherals. And with the number of new USB devices coming out every week, it's not surprising to realize that you have too many of them to plug in to your PC. While you don't always need the computer for your USB connected device (for example – charging your phone). However, usually only your computer has USB ports and you may have two USB flash drives that are bigger or wider than the others (think character USB drives). Chances are they eat up the space provided by other ports for other flash drives that you end up only able to use just two USB drives at a time.
These problems are what the new Buffalo USB-powered 8-port hub tries to resolve. The "BSH8U01" series provides not five, not six, and not seven ports – but eight ports in total. That means you can insert as many as eight USB devices to your computer at a single time!

You may wonder how in the world the Buffalo USB hub can get all those eight devices all powered-up at the same time. Well, the 8-port USB hub connects to 2 USB laptop ports, enabling it to supply around 1000mA power without the need for an AC adapter. This capability is twice as much as previous bus-powered USB ports.  In other words, you can now use your USB fan, USB coffee heater, MP3 players, and all other USB-powered devices without having to worry of short circuits which often happen when devices compete for limited power supply.


The Buffalo USB hub uses USB 2.0 interface and has data transfer speeds of up to 480 Mbps. The hub itself measures 46 x 132 x 15 mm while the cable is 0.9m long. You can also easily carry it around as it weighs merely 145g. Not worry about OS compatibility too, as it is said to work well with Windows XP, Vista, 7, 8, and Mac OS X 10.4 and above systems.
If you are from the US, you'd have to wait a little longer 'til it becomes available here. However, if you don't mind paying the shipping fees, you may place your order as early as now in online stores in Japan as it becomes on sale there from mid-April. The Buffalo USB 8-port hub is priced at 3,213 yen (around $34), including taxes, and is available in black and white colors.
Color: black, white
Interface: USB2.0
Data transfer speed: USB2.0: Max 480Mbps
Power-supply method: Bus power
Length of cable: 0.9m
Size: 46×132×15mm
Weight: 145g