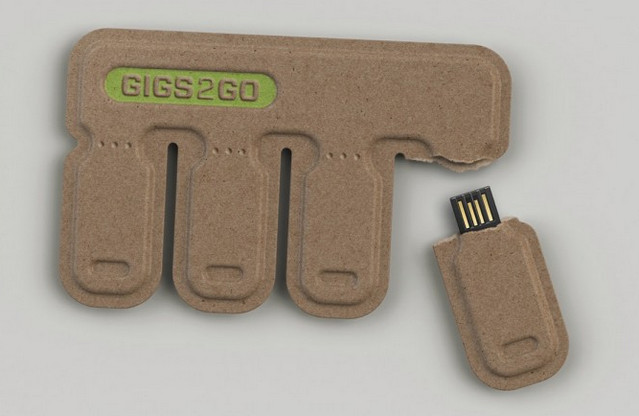 The disposable paper USB flash drive isn't a new concept. It's been milling around the industry for a while and has already been conceptualized in different forms. Despite that, Gizmag's execution, the GIGS.2.GO, is a clean and sensible execution of paper-based flash drives out there.
The GIGS.2.GO paper drives come as a set of four USB sticks (Gizmag calls them tabs) that are stamped together as one piece. The material used to house the USB flash drive component is made from recycled materials, pulped and then molded and stamped into paper. All four sticks together make up a portable set of paper drives no bigger in size than a credit card. Though Gizmag has tagged the GIGS.2.GO as a disposable set of USB flash drives, its paper material is durable enough to suggest a decent number of uses.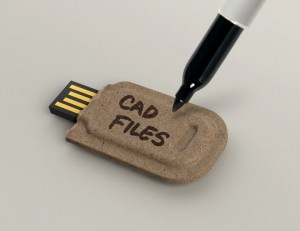 In terms of design, GIGS.2.GO is similar to another concept set of disposable cardboard flash drives proposed by the Russian design studio Art Lebedev. Both concepts follow a tear-off design and a readily writable surface thanks to the paper material. The similarities, more or less, stop there. Compared to Art Lebedev's concept, Gizmag's GIGS.2.GO is more conservative in terms of storage capacity. Each GIGS.2.GO USB flash drive offers only 1 GB of memory storage compared to Art Lebedev's 4 GB to 16 GB offer. Gizmag's decision is more in line with the idea of paper drives being cheaper and more "disposable." But the fact that there's still a gig of memory there suggests that the user is not supposed to just throw the drives away after a couple of uses.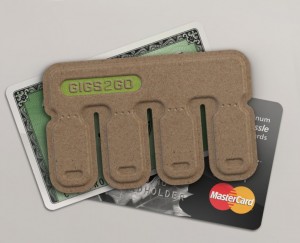 The reusability factor is a plus for the GIGS.2.GO, since there is a serious issue right now with e-waste. Most electronics end up in the dump because of the lack of complex waste sorting that separates the electronic components from their recyclable housing. Though still in the conceptual stage, it's clear that Gizmag's GIGS.2.GO has the potential to lead the way in promoting the use of disposable materials. Realizing the possibility of paper materials that can outlast the write cycles of the USB flash drive components that they house is something the industry can look forward to. More disposable materials mean less electronic waste and less negative impact on the environment. An even better step for Gizmag, though, (if it decides to fully push through with this concept) is to work its way around the "disposable" sense of the GIGS.2.GO flash drives.