The Iron Man movie franchise is welcoming the third installment of the comic book hero's adventures into movie screens nationwide this coming May. There's bound to be a lot of people looking forward to the movie and possibly talking about with it with everyone at all times. But don't worry – there are other ways to express your enthusiasm. One way is to look at and maybe indulge in a few releases from Infothink. It's okay to fuel the fandom love for the Iron Man with the help of technology.
Infothink's homage to Iron Man 3 takes the form of three USB flash drives with distinctive designs inspired by the movie. The Iron Man 3 flash drives are scheduled for release in around the same time as the film's introduction into the big screen. Albeit still USB 2.0 in bus interface specifications, Infothink's Iron Man 3 USB flash drives are a significant improvement from the company's previous release of a line of Marvel-inspired drives. The Iron Man drives are now equipped with slide-out USB port connectors and a storage capacity of 8 GB.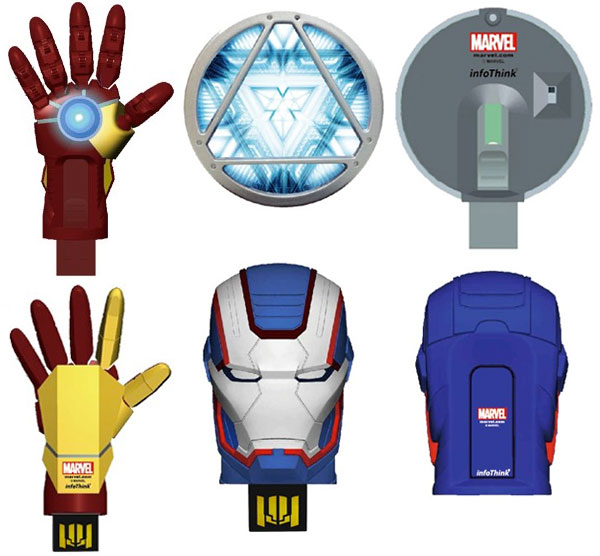 So, how did Infothink translate its inspirations from the movie into reality? Well, all that has to do with the look of the three different Iron Man 3 flash drives. The first flash drive is actually shaped like a mini Iron Man Glove with Repulsor. The second flash drive is designed as the Arc Reactor, the power source of Iron Man's suit. The final flash drive design is Iron Patriot's helmet. To add even more fun to the mix, each drive possesses a special feature related to its design. For the Iron Patriot, it's relatively straightforward; the USB flash drive is shaped like the helmet of one of the characters in the movie. The Arc Reactor flash drive, on the other hand, is shaped just like the Iron Man's actual Arc Reactor, and when you plug it into a USB port, the Reactor design glows. The coolest of the three is definitely the Iron Man Glove. The Glove mimics the glow of Iron Man's repulsor / flight stabilizer when you plug it in. As a bonus, the fingers of the glove can be posed to your liking. Just make sure not to get too carried away with the gestures.
For those already psyched and ready to buy, lucky you if you're Australian. As of now, the Iron Man 3 flash drives are only available for the Australian market. If you're from anywhere else, these limited edition drives will be available with special shipping charges.