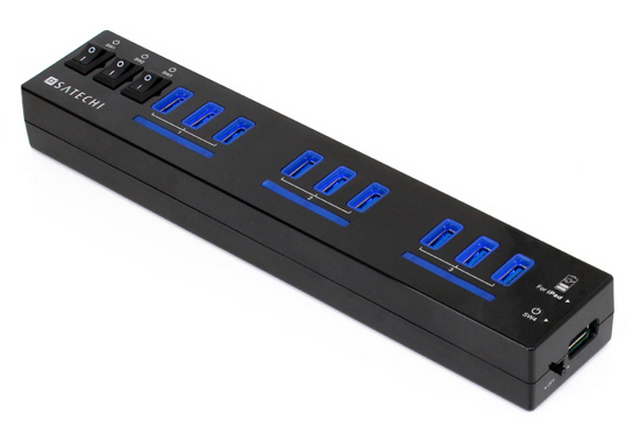 Most people who use laptops and ultrabooks (maybe even some desktops) can be sure to run into one problem more than any other: running out of ports into which you can plug in USB devices. Most laptops and ultrabooks come with just two or three built-in USB ports. If you're Mister or Miss Minimalist, good for you; but if you're like everyone else, you're probably wishing for an extra port or two. Enter the USB hub, a device that magically turns one port into 2, 3, and even 4 ports – an amazing and happy creation for all the gadget-obsessed out there. But if you think that four ports extra are not satisfaction enough, then it's time to meet the Satechi 10-Port USB 3.0 Hub.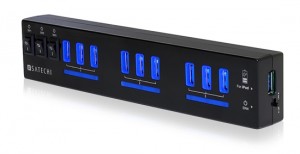 Ten ports, you say? Now, that's more like it! The fact that those ten ports are USB 3.0 ports amplifies the excitement potential that you can associate with the Satechi 10-Port Hub. The device's design also makes it easy to use and easy on the eyes as well (not something you would usually imagine with 10-port anything). Nine of the ports are grouped into three parties of three. Why? Because you can choose to switch each group of ports – on and off. If you only need three more ports, why power all nine? This neat design feature keeps you from draining more power from your computer than you need to. Now, your next thoughts may be along the line of "why only nine? Where's the tenth port?" The tenth port is located at one end of the hub and specifically designed to charge an iPad. Very nifty. Another good thing about the hub's design is that the ports on top don't crowd each other.
Interview
We had a few questions for the manufacturers at Satechi: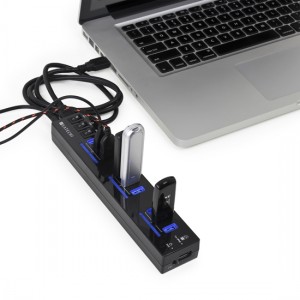 Q. What is the advantage of having 10 ports?
A. The Satechi 10-Port USB 3.0 Hub adds nine additional USB 3.0 ports and one iPad-charging port to your PC or Mac. This allows you to connect and use USB devices such as digital cameras, external hard drives, flash drives, and printers, all from a single hub.
Q. Is there a way to manage the individual ports?
A. The Hub is uniquely designed with three switches that control each group of three USB 3.0 ports; each group of three is lit with a blue LED when powered on, as well as a separate LED for each port when a device is in use.
Q. Can you transfer data, or is it just a Power Source?
A. Powered by USB 3.0 and providing data rates of up to 5.0Gbps, this 10-Port Hub is the ideal solution for transferring data between your computer and external USB storage devices. Equipped with a power supply, the Satechi 10-Port USB 3.0 Hub guarantees electric current stability and the effective operation of connected USB devices.
Q. Will I need to download anything?
A. It does not require any software, drivers, or complicated installation process. With the slim, strip-shape design the Hub saves your precious desktop space, and also adds style with a sleek, glossy finish. The 10-Port Hub is extremely portable and easy to move between systems or take on the road.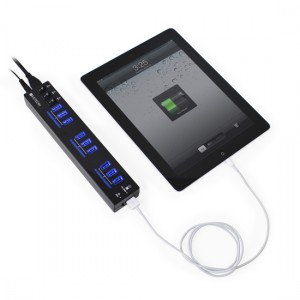 In terms of looks, it doesn't do too badly with a black, glossy casing with some royal blue detailing. It might be some cause for irritation though, if you're the type to get fussy about smudges on glossy surfaces. There are also some features that can be considered as detracting ones. Because of its size, the Satechi 10-port hub is an obvious power drain. Expecting it to be only bus-powered may be too unrealistic; it needs the aid of an external power supply to run at full strength. But for a huge addition to the number of available ports, even this little inconvenience, in the end, can be overseen.
The Satechi 10-Port USB 3.0 Hub retails at $69.99.