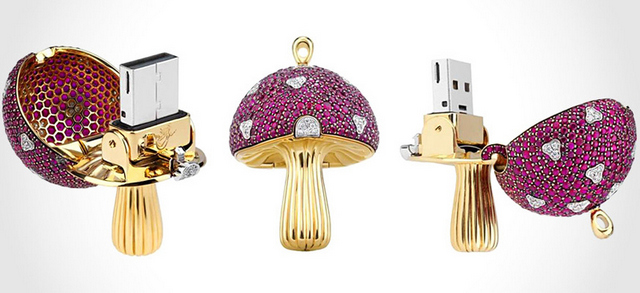 "Beauty is not what you see, it is what you dream." With a motto like that, you can maybe get the idea that things can take a lavish turn very quickly when Shawish Geneva is involved. The Swiss jeweler, which specializes on intricate and extravagant jewelry pieces, recently unveiled a 150-carat diamond ring creation made completely out of diamonds. That's a serious feat of artistry and technology, and you would expect nothing less from a jeweler that takes the meaning of luxury very seriously. Here, Shawish luxury once again takes form but in a technology-friendly twist. Without further ado, it's time to get acquainted with the jeweler's magic mushroom collection, a series of USB flash drives that can run up your bank account in the same way a high-class sports car can.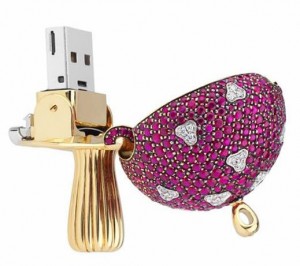 Taking inspiration from Alice in Wonderland, Shawish decided to embark on designing a magic mushroom collection to top all magic mushrooms that could exist in any reality. With the lowest price commanding a cool $16,500 and the most extravagant mushroom capable of fetching $36,000, expectations for luxury are set very high — and, in an almost unbelievable turn, actually met. Though each USB flash drive is only equipped with 32 GB of storage capacity, disappointment is not located anywhere on the horizon. It could even be argued that the magic mushroom collection is just jewelry trying to pass itself off as USB flash drives. In the world of Shawish's inspiration, all that glitters is gold and that extra glint comes from precious stones. These USB flash drives are made of 18 carat white gold and the precious stones that stud the drives are emeralds, white diamonds, sapphires, and rubies.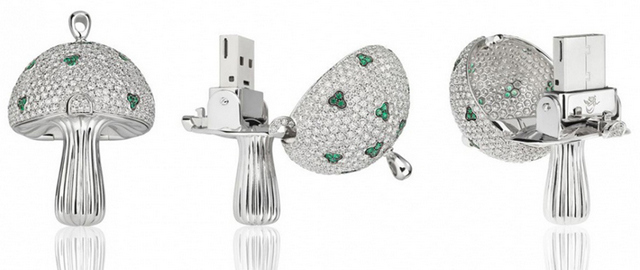 There's really not much else to say about these flash drives. Their mere existence is proof that there are some filthy rich people out there. And those filthy rich people, perpetually troubled with how to spend all that money, may just decide one day that a magic mushroom from Shawish would make a nice present for the wife, the daughter, or the mother. As for the many among us who can't afford or simply won't pay up for such an extravagance, we can satisfy the little magpies in us with pictures from Shawish website. Though it's hard to justify ever owning one, it can't be denied that those Magic Mushroom USB flash drives do make a mesmerizing and pretty sight.