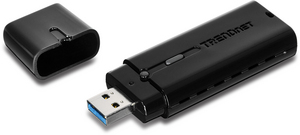 Inevitably, devices and gadgets become obsolete over time. Laptops and desktops may not keep up with the current speeds of networks available through wireless access points. Even worse, a time may come that our devices may not be able to access them at all. Fortunately, advancements in technology can come up for these problems. Now, wireless N networks and wireless access points can be easily accessed by your device, as long as a network is available. And with TRENDnet introducing its new wireless adapter, your device will be able to function efficiently in accord with changing times.
The California-based company TRENDnet, a reputable wired and wireless networking brand, recently released its first Wireless AC1200 Dual Band adapter with a SuperSpeed 5 Gbps USB 3.0 port – model TEW-805UB.
Since TRENDnet's TEW-805UB is dual band, it is highly flexible, enabling its users to connect either to a common Wireless N network up to 300 Mbps or to a high performance Wireless AC network up to 867 Mbps. It also has a port which has the capacity to maintain high speed wireless transmissions to a Windows-based computer device.
TEW-805UB is user-friendly and requires merely five minutes of your time to install. Its adapter likewise prioritizes network connections and stores multiple network settings for the convenience of its users. It also has a Wi-Fi Protected Setup (WPS) button which easily connects the adapter to a wireless network with just the touch of the WPS button.
Although this is the first time the company had integrated a USB 3.0 port, TRENDnet Technology Director Sonny Su assured the users of TEW-805UB that the 3.0 port will not bottleneck tremendous Wireless AC throughput speeds. He also said that the adapter actually works with common USB 2.0 ports.
In installing the driver, first download the zip file from the following link: http://drivers.softpedia.com/get/NETWORK-CARD/TRENDnet/TRENDnet-TEW-805UB-AC1200-Wireless-USB-Adapter-Driver-Utility-10R.shtml. Then simply open the Autorun.exe and click "Install". Once running the program has ended, click on "Finish". Following the installation of the driver, open the newly-created icon and click on "Available Networks". Once the resulting box appears, simply select among the available wireless connections and enter the required password. Basically, that is all it takes to get the device running smoothly.
If you are looking to purchase one of the TEW-805UB, you'll be happy to know that is already available for shipping to online and retail partners of TRENDnet.