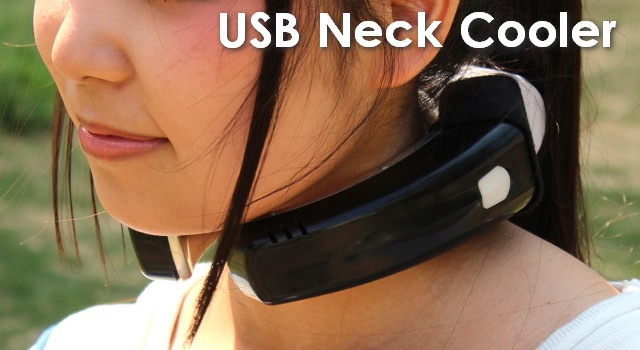 The creative imaginations over at Thanko never cease with bizarre applications and ideas. If you're looking for a company who consistently expands on the possibilities of USB technology, the Tokyo-based Thanko should be your top choice. In the past, the Japanese company had released USB-powered butt cooler cushions, USB-powered air purifiers, and a pocketable full-size USB keyboard, among other weird products. This time around Thanko is offering you respite from the summer heat. According to Thanko, a neck cooler you can plug into any USB port can be the solution for beating the summer heat.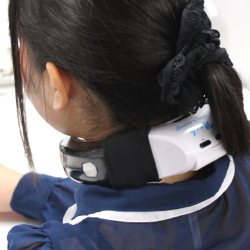 The USB Neck Cooler from Thanko is a gadget you wear around your neck like you would a pillow cushion on an airplane trip. It's a different take on another cooling device that Thanko previously released (a USB cooler in the form of a necktie). The device clamps gently around the neck when in use and starts releasing cool air to combat the heat. The cooling air is released by two fans on both sides of the device, and they can be adjusted to your preferred speed by controls located at the back of the neck-cooling device. The cool air's effects are doubled by the two cooling plates installed into the USB Neck Cooler. It's convenient enough for single person use, especially when compared to air conditioning. Thanko's USB Neck Cooler consumes a lot less electricity in comparison to an air-conditioning unit. It can be powered in through two rechargeable AAA batteries, which can be recharged using the power coming from a USB port.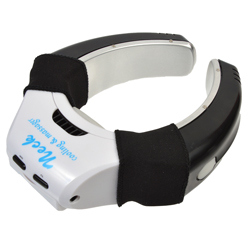 According to Thanko, the USB Neck Cooler is capable of keeping you cool as long as the surrounding temperature remains below your internal body temperature. Running on a full charge of batteries also makes the device capable of cooling you off for up to 12 hours. That's enough charge to keep you cool for most of the day. There is one major downside to the USB Neck Cooler. You can't call it discrete. It's basically a black and white plastic neck clamp wrapped around your neck. It's passable if you're going for the futuristic look, but if you're concerned about saving face, then you might want to stick to using this device within the safe confines of your home.
The Thanko USB Neck Cooler is more easily available in Japan. If you want to own one, you need to have a unit specially shipped to the U.S. from Japan for the price of $20.