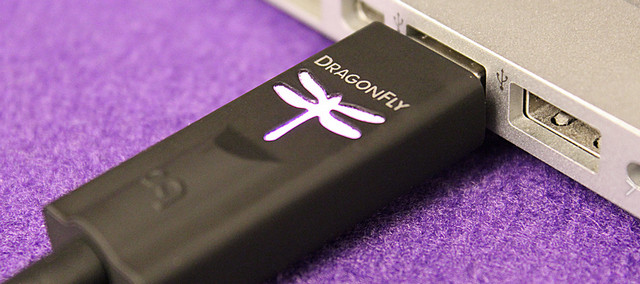 Music and audio in general are crucial components to any computer experience. Whether its listening to your music library, chatting with friends, or looking at videos online, audio quality is something that is expected to be somewhere between decent and excellent. Most laptops put out audio quality that can be qualified as somewhere around decent. "Decent," however, is not something to settle for when it comes to sound quality in laptops.
Laptops are often outfitted with low-grade soundcards – smartphones and iPods even have better general sound quality. But if you're stuck with a laptop possessing so-so sound quality, there is a way to upgrade it without having to install a new soundcard. A USB digital audio converter, or DAC, should do the trick and pave the way to a better listening experience. Audioquest's DragonFly USB Digital Audio Converter and Headphone Amp happens to be one of the better investments out there.
The Audioquest Dragonfly USB DAC and Headphone Amp is actually a 3-for-one device. Aside from being a DAC and a headphone amp, the Audioquest product also serves as a preamp. Just like any other DAC in the market, the DragonFly's purpose, when whittled down to the basics, is singular: to transmit the highest amount of auditory detail found in any music or audio file. With this as the main criteria, it becomes clear, based on engineering and design, that the Audioquest DragonFly USB DAC is more than up for the job.
The build of the DragonFly DAC exudes quality. Its casing is made out of hard plastic that has been coated with a rubberized non-slip material. Its size is significantly smaller in comparison to other portable DACs in the market. While most portable USB DACs available are about the size of a deck of cards, the Audioquest DragonFly only occupies as much space as a standard flash drive. It's extremely simple, but not lacking. There are no power buttons or volume controls anywhere (less fiddling around), but there is an LED light indicator that flashes green, blue, amber, or magenta, depending on the sample rate of the file playing.
From an engineering standpoint, the Audioquest Dragonfly USB DAC performs up to standards. It reads all music files going up to 24-bit/192kHz and is equipped with isolated dual master clocks to prevent conversion and rounding errors in the audio files being played. It possesses asynchronous Class 1 USB data data transfer and a direct-coupled circuitry DAC chip for better file processing and control. It's compatible with iTunes and more than a few other music players; it just needs to be setup in the beginning to keep it running smoothly on a Windows or Mac computer.
At $250, the Audioquest USB DAC and Headphone Amp is priced in the mid-range of portable DACs.