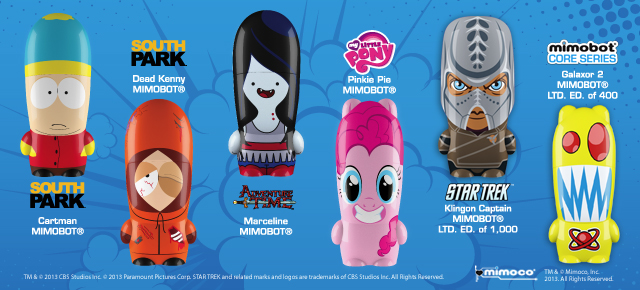 Going strong since 1970 and drawing in over a hundred thousand fans, San Diego Comic-Con is truly the most wonderful time of the year for comic, movie and sci-fi fans all over the world. The enthusiasm and dedication of these fans ensure the survival and the success of Comic-Con and its dealers, which is why participating companies strive to come out with something that will pay tribute to these diehard fans. This year, Mimoco is honoring the fans of a number of iconic movies and TV shows while also catering to their data storage needs through exclusive additions to their MIMBOBOT® line-up, giving Comic-Con fans yet another thing to look forward to.
Mimoco is a Boston-based consumer electronics design studio that has graced Comic-Con for eight years in a row. It is more famous for its premier brand of character-based flash memory drives known as MIMBOBOT®. And now, to celebrate their eight years at Comic-Con, Mimoco is releasing eight (8) low-run limited edition MIMBOBOT® flash drives and four (4) new MIMBOBOT® flash drives – all of iconic characters that Comic-Con fans will certainly enjoy storing their data in!
Included in the hand-numbered limited edition line-up are Mysterion from South Park, Blake from Workaholics, Chewbacca from Star Wars, Fan Favorite from My Little Pony, Ice King from Adventure Time, Bruce Lee, a Klingon Captain from Star Trek and Galaxor 2 from Mimoco's very own Core Series. Joining the MIMBOBOT® unlimited edition line-up are Cartman and Dead Kenny from South Park, Pinkie Pie from My Little Pony and Marceline from Adventure Time.
Contributing to the notion that good things come in small packages, each flash drive is preloaded with Mimory™ and MimoDesk™ personalization suite of wallpapers, icons, screensavers, avatars, and more exclusive character-based content, making it a must-have for fans. But do not be skeptical that MIMBOBOT® flash drives are only good for appearance; available in 2GB, 4GB, 8GB, 16GB, 32GB and 64GB capacities, these limited edition flash drives help you show off your love for pop culture while proving to be highly functional.
The introduction of Mysterion, Blake, Chewbacca, Fan Favorite, Ice King, Brue Lee and a Klingon Captain are a wonderful way for Mimoco to celebrate their eighth year of contributing to the excitement of fans at San Diego Comic-Con. To see them in person, catch them in the Toy Grower section and Star Wars Pavilion at San Diego Comic-Con International.