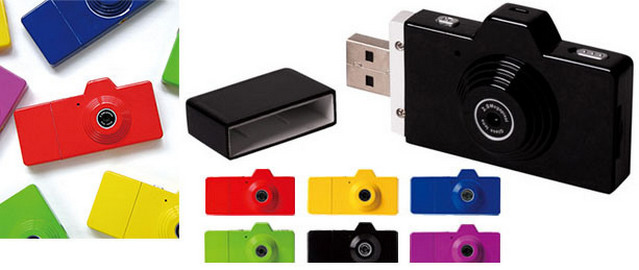 People say that good things come in small packages, but it is probable that they never envisaged something as awe-inspiring as the Fuuvi Pick USB Toy Digital Camera. Saving bag space by merging three essential items into one and fulfilling the lifelong dream of those who secretly wanted to be spies when they grew up, the Fuuvi Pick USB Camera is a flash drive, camera and video recorder that comes in eight bright colors.
Weighing in at 24g and with miniature measurements of 35 x 70 x 15mm, the Fuuvi Pick USB is able to hold up to 16GB of memory with a micro SD card (not included in the package though). Photo resolution is 1280 x 1024 while video reso is 720 x 480 – definitely not bad at all for its make! Moreover, the 2mp camera is just plain impressive, considering the USB device's tiny size. Best of all, at least for us, the device charges through the USB, and can run up to 70 minutes when fully charged.
Once you get over how cute and compact the Fuuvi Pick USB Toy Camera is, you can go on to appreciate its functionality and the convenience it brings. The retro-like photos and videos are captured simply by turning the camera on and pressing the shutter button for pictures. For video shoot, hold down the shutter button. When you're ready to transfer your items onto a computer, all you need to do is plug the device – through the USB – into your computer and you're all set to transfer or just view them.
What would probably have you thinking twice, however, is that the Fuuvi Pick USB Toy Digital Camera lacks a viewfinder or camera screen. Given its tiny size though that is sort of a given. Therefore, you need to have a test run with the camera first to determine what you can capture in one photo when you hold it at a certain angle (if not, you may end up with a few lopsided shots). If you're looking for a pro camera, then this is definitely not it. But if you want something that will simply capture the littlest moments without having to carry the usually heavy DSLR or the highly sensitive digital camera, then this is the perfect all-in-one device!
For funky photos and videos taken from a tiny device that can also double up as a data storage unit, the Fuuvi Pick USB Toy Digital Camera is more than worthy of your $60