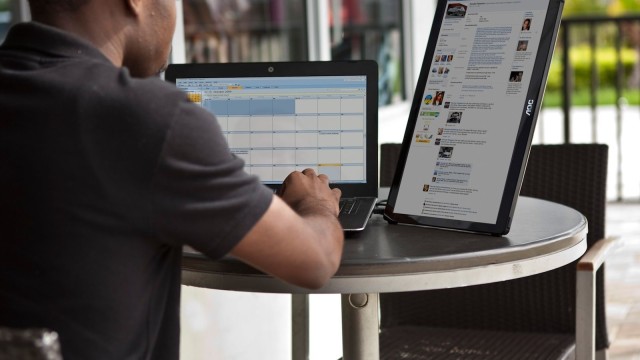 Picture this: you have to complete documents, graphs, and presentations before deadline, but you have to rely on other online sources for your data – all while keeping up to date with goings-on in your numerous social media accounts. Sounds familiar? Does that usually happen to you outside an office setting, specifically in places where you tend to get things done like coffee shops? It's hard to fit desktops in the personal space that you have there, right? If you are one of those who have become frustrated with your MacBook's limited screen, you'd love this new solution from AOC! The new USB-powered 16-inch LCD display has been designed to provide an attachable, useful and practical display to augment your MacBook for more possibilities.
Now, you won't have to rely on a wide desktop computer screen for display real estate as the USB LCD display enables your MacBook to expand its display capabilities. You can work on one thing using your MacBook, while also monitoring other sites or programs in the AOC LCD display. It can function in a portrait or landscape view mode, making it ideal for any use that you may require. Typically, you can just look from your MacBook display to the LCD display to see what you need to without having to navigate between tabs and windows already active. In other words, you don't have to close and open numerous tabs and windows because, well, you have more than enough screen space to see them all, having a resolution of 1366 x 768 across a 15.6 inch area.
AOC's 16-inch LCD display connects to a MacBook through a USB 3.0 port and can actually mirror the quality and capabilities of a MacBook screen. Remember that to make this 16-incher work well, it absolutely requires a USB 3.0 port.
Aside from providing you with an extra screen, the great thing about the AOC USB-powered LCD display is that you can bring it just about anywhere. Because it is lighter than its thicker 15-inch predecessor, it makes the perfect business solution for travellers and café loungers around the world.
With MacBook's popularity and the increasing number of offshore workers, it wouldn't be a surprise if stocks run out. The AOC USB-powered 16-inch LCD will set you back for $139 but when you get one, you'll also take home a travel sleeve. This freebie will ensure that your display remains as immaculate as your MacBook screen, or even better!