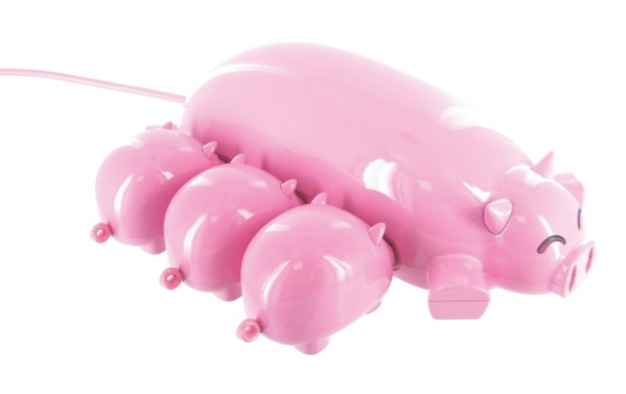 At the very basic level, USB drives are a relatively mundane thing. Their sole purpose is to act as a mobile mechanism to store your files. They often dangle listlessly on your keychain, blending in with your keys, or sit at the bottom of your bag until they need to be fished out and jammed into a computer. We have all seen those little black plastic devices sticking out of computers, offering no purpose other than to store and transfer files.
However, for those with a little bit of imagination, USB drives don't have to be so boring. In fact, they can serve as an accessory, a great way to show off your personal style or your sense of humor. Many companies have done this by producing flash drives that are colorful and eye-catching, some with a trendy print or a recognizable logo.
OfficeChums has taken this one step further and raised the cuteness level of USB flash drives by transforming their data storage into something to fawn over. Instead of a simple USB stick with a neat design, this storage unit consists of one big mama pig and her three little suckling piglets (the mama big acts as the USB hub and the piglets are actually little flash drives).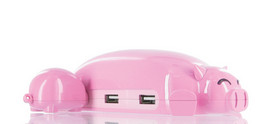 Mama pig and her piglets will serve as adorable companions on your desk, showing your colleagues that data storage doesn't have to be so humdrum and uninteresting. When in use, mama big lights up with delight, thereby brightening up your day.
If you want to take the pigs out for the office for a stroll, you can with the handy lanyard which you can attach to your keychain. Now everyone that you come across can be delighted by your very cute electronic accessory.
If you are not a major fan of pigs, then not to worry. OfficeChums will also be releasing a USB hub shaped as a dog and another one as a cat. Hopefully you will have enough files to store to make use of all of the adorable puppies and kittens that will cutely and loyally store your precious files.
With the OfficeChums animal-shaped USB hubs and drives, data storage cannot possibly get any cuter than this. The mama PigChum is currently available for $31 on the OfficeChums website and Amazon, while the piglets are sold separately at a cheaper price.