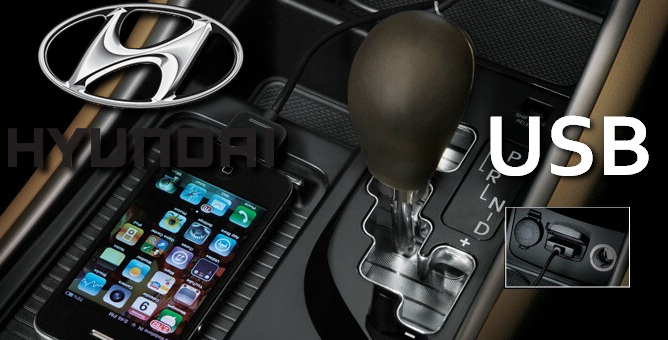 Hyundai is to set a new trend in Korea for all SUVs and passenger cars to be sold in Korea starting this October. Recognizing that most drivers used the lighter jacks of their vehicles to charge their smart phones or tablets rather than for lighting cigarettes, Hyundai decided to do away with the lighter jacks all together and replace them with USB ports.
A spokesman from Hyundai revealed that it is the first auto company in the world to replace lighter jacks with USB ports. He added that Hyundai will also evaluate and survey consumers from other countries to assess whether the replacement of lighter jacks to USB ports will be more beneficial to them.
USB Growing In Cars
The drift to non-usage of lighter jacks for lighting cigarettes can be largely attributed to the widespread campaign against cigarette smoking. Increased awareness of the risks associated with cigarette smoking has caused a lot of people to quit smoking. In addition to that, there are also countries which now implement a no smoking policy in public places. Many countries have also decided to impose taxes on cigarettes, making them more expensive today as compared before. As a result, fewer people are smoking and hence, there is less need now for lighter jacks for lighting cigarettes.
In 2012, South Korea has banned smoking in government buildings, universities, schools, libraries, children's playground, train stations, subway, department stores, hospitals, department stores, large hotels, theaters, and highway rest areas, theatres, department stores or shopping malls, large hotels, highway rest areas and bars and restaurants which measure larger than 150 square meters.
This 2013, more stringent rules on smoking was implemented. A person who is caught smoking will have to pay a fine of 100,000 won. On the other hand, shop owners who violate the law can be fined up to 5 million won. By 2015, South Korea is said to completely ban smoking on all bars and restaurants, regardless of their size.
The smoking ban in South Korea must have prompted Hyundai to replace the lighter jacks of vehicles with USB ports. However, Hyundai has decided to keep the in-car ashtrays to accommodate to drivers or passengers who smoke.
Many regard the replacement of lighter jacks with USB ports as a smart move for Hyundai since having a fully charged device has become more important today for most people than puffing a cigarette. As an added bonus, the USB port installed in Hyundai vehicles is said to charge up to seven times faster as compared to using a separate portable charger.