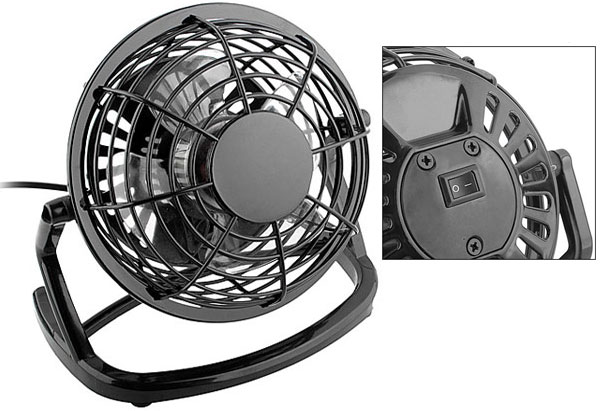 What would be more stressful than working for long hours on your computer with your sweat dripping because of the heat? To cool you down, refresh and re-energize you, a simple fan may do the trick.
The Executive USB Fan is a great idea to beat the heat that comes from the sun and/or from your computer or laptop. This fan merely requires 2.4 watts of power. And no, you need not plug it in an electric outlet. Simply plug it in a USB port and voila – you have a fan to cool you down! No need for any installation whatsoever.
Unlike the usual fans producing too much noise, the Executive USB Fan is quieter. Thanks to its rubberized case, any vibrations that may be transmitted to your desk will be greatly reduced. This means you do not get distracted from work or from your sleep. The noise would also not be a problem when you are using your phone near the fan. Aside from the low noise it provides, the Executive USB Fan can be rotated to 360 degrees to allow maximum area for its breeze.
One of the great features of the Executive USB Fan is that it is so handy – making it so much easier to carry it with you anywhere you go. Because of this, it is a perfect tool to bring to the beach. Although it is small, it can provide air quite effectively. You can feel the cool breeze from the fan even from two feet away. In addition to its being handy, its small size also makes your desk look less cluttered. It also allows you to move it easily to your workspace.
Aside from cooling down laptops or computers, the Executive USB Fan can also be used to cool down a television being used with an Xbox, especially because the television generates a lot of heat.
It has a great design that would surely spice up your desktop and workspace. It even has an on/off button to allow you to control it easily without having to remove the wire or cable connected to the USB port. It is made of durable plastic that is sure to last for a long time. The Executive USB Fan has a diameter of 13 cm and a height of 14 cm. Its cable length extends up to 1 meter.
The Executive USB Fan sets you back for $26.49.