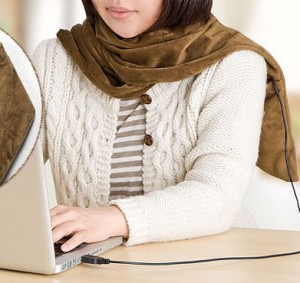 Don't you just hate it when you start to feel cold at the middle of work? Many people get distracted that they could no longer function and work when they start to feel cold and their fingers begin to go numb. This could be a bummer if you already have so many ideas flowing in your mind but you cannot get yourself to work or study because your room is just so chilly.
So what do you do? Grab something that will surely make you warm no matter how cold it gets. Step aside jackets, scarves, and blazers, the Sanwa USB Muffler is not your ordinary garment.
The Sanwa USB Muffler has been designed to effectively keep you warm at your office desk or while you work at a coffee shop with air conditioning that you just cannot handle. It is like your usual synthetic scarf but with some kind of super power. The Sanwa USB Muffler comes with hand warmer pockets in order to keep you covered – warming not just your neck but also your hands. But the best feature of the Sanwa USB Muffler is its built-in heater. Sanwa Direct guarantees that this product is safe to use so you need not get paranoid that it may get too hot and burn you. The Sanwa USB Muffler is programmed to warm to 37ºC until the thermostat cuts power. The built-in heater will not turn on until it cools down to 32ºC.
The built-in heater of the Sanwa USB Muffler is powered by plugging into a USB port. You will need to have a USB port or a USB battery power pack to make it work. Since almost everything comes with a USB port, the Sanwa USB Muffler can be used anytime and anywhere. It comes with a 1.5 meter cord, allowing you to move freely without having to stay too close to the USB port.
The Sanwa USB Muffler may not appear as fashionable as your synthetic cashmere or silk scarf. At the same time, the Sanwa USB Muffler does not apparently cater to male clients. Men may not feel comfortable to wear it and may look awkward with it. Also, washing the muffler may be a little challenging for its users.
The Sanwa USB Muffler is sold for $14 each. However, since it is only available in Japan at this time, you would have to pay for shipping fees.